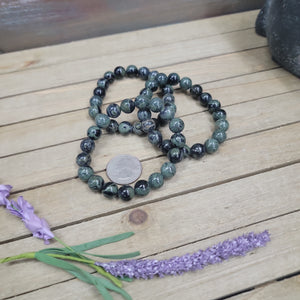 Kambaba Jasper Bracelets
Regular price
$12.00
$0.00
Unit price
per
Kambaba Jasper is a very energizing stone that activates our root and heart chakras. It helps provide much needed healing to the heart and calming of negative emotions such as guilt, trauma, grief, jealousy, anger, and sadness.
This crystal helps one achieve emotional balance throughout the day and helps keep one "cool" during times of distress. Kambaba Jasper acts as a teacher and life coach, helping you get through some of the toughest emotional experiences you've had to deal with. This stone pushes us to release the weight pushing down on our chest, right back into the atmosphere. Show the universe that you will not tolerate being "stuck" in emotional disarray anymore. Kambaba Jasper's powers are strong enough to finally put you back in the driver's seat of your life. Simple things such as socializing, working with colleagues, and even forming long lasting relationships will feel natural and easier than ever before. This special combination of minerals helps one feel comfortable with themselves and their surroundings. 
Kambaba Jasper has a special relationship with Mother Nature and attuning you to her frequencies. Meditating with Nature will help raise one's awareness about their environment and the people within it. This crystal helps teach us to start taking in our surroundings. So easily do we get distracted with technology and socializing that we forget who and where we are. Meditating with Kambaba Jasper will help strengthen your connection to the outside world, as well as becoming more connected to the people and animals within it. 
---