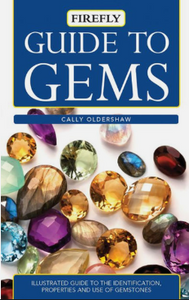 Guide To Gems
Regular price
$19.95
$0.00
Unit price
per
A reference guide to gems, semi-precious stones and crystals. Gemstones and crystals are used for jewelry, industry, lasers and precision technology. Firefly Guide to Gems is a practical, compact guide to the identification and use of precious and semi-precious stones, novelty stones, agates and crystals. An introduction explains geology, chemistry and gemstone properties in clear and accessible terms. Key aspects of gemstones are explained such as crystal structures and optical and physical properties.
The first section of the book focuses on precious gems in their many forms, with illustrations of priceless jewelry. Practical information includes: Fashioning and cutting Types and shapes of cut Collecting Handling and storing gemstones Weighing and measuring stones The second and main section supplies complete descriptions of a wide range of gems, organized by chemical composition, for instance: Carbon (diamond) Aluminum oxide (saphire and ruby) Phosphate (turquoise) Silica (opal)
A fascinating profile of each gem is accompanied with color photographs of the raw crystal, common cuts, and finally polished for use in jewelry. At-a-glance charts provide technical details such as refractive index, crystal group, luster, hardness and cleavage for each gem. Easy-to-read and abundantly illustrated, Firefly Guide to Gems is ideal for collectors and rockhounds.
---