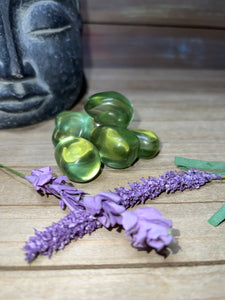 Green Obsidian Tumbles
Regular price
$6.50
$0.00
Unit price
per
Life can be so hard sometimes, and each person has different strength to go through it.  
This stone is indeed a goddess stone that resonates with Green Tara, the well-known Tibetan deity who gives protection and love to human beings.  That's why it's considered among the purest stone that is able to soothe the heart and heal emotional wounds.  It carries strong energy full of compassion to help a person expand his or her quality at the same time. Not only does it help inner growth associated with emotional ability but also the outer life.
So, if you find yourself or other people dragged into severe emotional wounds caused by loss for instance, own the stone and start healing the wounds.
Natural green obsidian or also called Gaia stone has the ability to promote the growth of intimacy and lovemaking it the perfect means to heal tensions that happen between couples, friends or parents and their children.
Metaphysical meaning of green obsidian works by diffusing anger and inducing compassion that in turn it can dissolve barriers among people.
---