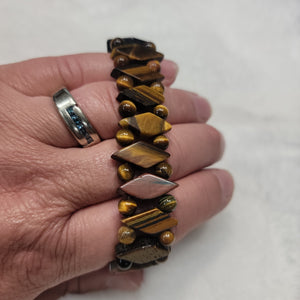 Golden Tigers Eye Bracelet
Regular price
$18.00
$0.00
Unit price
per
Tiger Eye: is a powerful stone that aids harmony and balance, and helps you to release fear and anxiety. It stimulates taking action, and helps you to make decisions with discernment and understanding, and unclouded by your emotions. Use it for insight and you can be a very lucky person. Tiger eye may bring good luck and protection from the evil eye to the wearer. It also known to bring clear thinking and insight.
Traditionally it was carried as an amulet against curses or ill-wishing, and is known to give you courage, self confidence and strength of will. It enhances creativity and is one of the stones that aid kundalini awakening.
It is an effective stone to assist you to accomplish goals. If you are prone to criticizing your own actions... you may be experiencing a lack of self worth. This stone may help you, as it will infuse you with confidence, brightness and optimism that may relieve these feelings of lack.
This is a stone that helps us to be more active, mentally as well as physically... and its major work is within the lower chakras. It will stimulate the base chakra, sacral chakra and the solar plexus chakra, where its energy has a very powerful effect. The vibration of 'the will'... which is the predominant energy of the solar plexus chakra... is strong within Tigers Eye Stone. It is a strong stone to aid you with all of the basic survival needs... and it assists you to enhance your strength, and your ability to work through difficult times
---