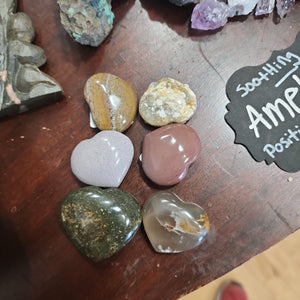 OCEAN JASPER HEARTS
Regular price
$6.00
$0.00
Unit price
per
INTUITIVE PIC ONLINE
Connecting with the Ocean Jasper crystal meaning brings a soothing energy to your mind, body and spirit. Holding the energy of water and the ocean, Ocean Jasper crystal is a heart-opening stone that invites you to call love, kindness, and happiness into your life. Through its gentle energy, the Ocean Jasper crystal stone meaning offers a sense of comfort and empowerment that nurtures your soul.

When you feel run down or low, the Ocean Jasper crystal meaning picks you up and brings you back to life. The supportive energy that this crystal provides reminds you to find that similar energy within yourself. Be your own rock, your own support system, and you can find boundless love and happiness.
PRIORITIZING YOURSELF
One of the most powerful intentions you can set for an Ocean Jasper crystal is the intention of caring for yourself. The soft, loving energy of this stone encourages you to treat yourself with a similar level of kindness and love. By opening your heart to showing yourself appreciation, the Ocean Jasper crystal meaning teaches you to make yourself a priority each and every day.
Rather than shying away from self-care, the Ocean Jasper crystal properties teach you to embrace self-care. It isn't selfish, it's necessary! You have to care for yourself before you can care for anyone else. Working with Ocean Jasper crystal healing properties help you to make sure your needs are met so you can feel your best and live your best.
Ocean Jasper is an especially powerful crystal for those who tend to give but not receive. If you are more comfortable providing for others than allowing yourself to receive love and affection from others (or even from yourself), this is thehealing crystalfor you.
FINDING JOY
The Ocean Jasper crystal meaning supports you on your journey to live ajoyful and happylife. Although we all experience ups and downs, Ocean Jasper crystal teaches you to ride the wave and go with the flow. By releasing stress and tension, the water-like quality of this crystal helps you to live a happier life.
Ocean Jasper is an uplifting stone that balances a peaceful energy with an equally happiness-inducing one. Similar to standing by the ocean and feeling that calm, serene energy, an Ocean Jasper crystal gives off both an energy of tranquility and bliss. It helps you to find contentment with where you are right now, rather than worrying about the future or despairing about the past.
---