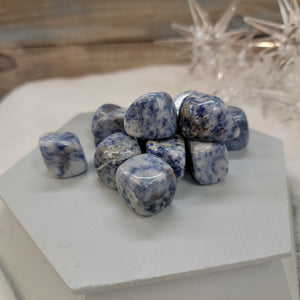 Blue Spot Sodalite Tumble
Regular price
$3.00
$0.00
Unit price
per
INTUITIVE PICK!
The Sodalite crystal stone meaning fuses your heart and your head, allowing you to speak and communicate from your heart, as well as ensure that you show up to your life as the most authentic version of yourself. Often when your heart and your head are in disagreement, you may say things you don't mean or portray yourself differently than you really are. By connecting these two energy centers, the Sodalite crystal meaning guides you to align what you think with what you feel, which can be a powerful asset when it comes to communicating in your personal life, professional life, and beyond.
The calming and soothing energy of a Sodalite crystal also empowers you to be yourself, even if it is uncomfortable. Like many other blue stones, Sodalite has a stress-relieving effect that guides you to a calm state of mind when you feel nervous, worried, or tense. This calming crystal can clear away any unwanted feelings that prevent you from expressing yourself honestly and truthfully and being authentic to who you really are – not just with others, but also with yourself. 
Communicating Clearly
A Sodalite crystal is a powerful tool for enhancing your communication because it enables you to communicate what you truly feel, rather than what's easy or convenient. It gives you a boost of strength and power to speak your truth clearly and confidently, so that you can both express yourself and be heard by others. 
The Sodalite crystal meaning offers a gentle reminder to think before you speak so that you can avoid misunderstandings and miscommunications. The Sodalite crystal healing properties put you in touch with your inner wisdom where you can see your life from a higher perspective and approach all conversations and interactions with a bird's-eye view. From this elevated perspective, you can learn to consciously communicate in a way that works for you and those around you. The harmonizing energy of the Sodalite crystal stone meaning allows you to find the balance between being bold and assertive with your words and speaking in a respectful and understandable way that others will respond positively to. 
Whether you are on the brink of a tough conversation, a speaking engagement, or an honest conversation with yourself, the Sodalite crystal meaning can support you.
Tapping Into Your Intuition 
Because of its connection to the third eye chakra, the Sodalite crystal meaning can strengthen your intuitive sense and your inner knowing. By clearing and activating this energy center, you can more easily access your inner wisdom with the help of your Sodalite crystal stone. In fact, working with this stone in particular can be especially powerful for strengthening your intuition because it calms the overactive mind so you can truly hear your inner voice speaking to you. From a quiet headspace, your intuition will be at full volume and you'll never miss a message from your inner voice again.
---